The Geopolitics changing Towards India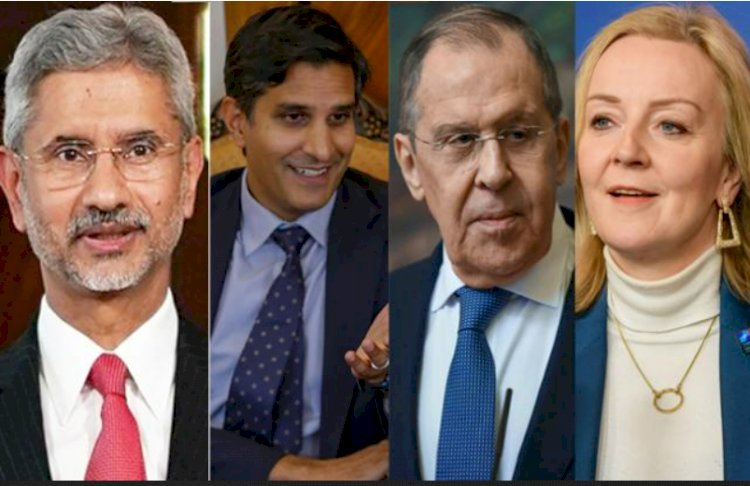 Every war has many outlooks, unlike other combats, this one also has some new upshots. Hence the war is still going on but the consequences have begun and the turmoil of Geopolitics could be seen straightforwardly.
As far as Delhi is concerned, it was a difficult few days. India was victimized by western media, especially from the U.S. doing Criticism over India's stand in the Russian Ukrainian war and the decision which has taken India to continue trade with Russia despite all sanctions imposed by the NATO world.
But suddenly everything is looking like changed, indeed it looks like the Indian perspective on the Ukrainian crisis matters for western countries, including China, Japan, and Australia. The way the higher authorities and foreign ministers are frequently visiting India shows the turmoil of world politics and how they are disparate in upcoming Delhi's decisions.
The flurry of high-profile visits had been seen in the last week of March and more often in the first week of April when the deputy NSA of U.S Daleep Singh visited India ahead of likely when Russian foreign minister Sergey Lavrov was about to arrive in Delhi. Then British foreign secretary Liz truss was in Delhi for talks on bilateral relations, the Ukraine crisis, and sanctions against Russia. Before all these arrivals Chinese foreign minister also visited India without any invitations with many ambitions. (hyperlink the previous article) This time these arrivals from the United States, Britain, and Russia had been official and pre-planned.
All these countries are sovereign states; they have separate bilateral relationships with India but whatever is going on in world affairs all visits are correlated with each other.
To figure out the goal of these visits let us find out the statement that has come up-
The US concern toward India
Deputy NSA of U.S Daleep Singh warned India that there would be consequences for countries looking to circumvent US sanctions against Russia. He also stated, "Friends don't set red lines. I came here in the spirit of friendship to explain the mechanism of our actions". The US wouldn't like to see any country attempting to take advantage of the current situation.' He added No one should kid themselves…the more leverage China gains over Russia the less favorable for India, … I don't think anyone believes that if China breaches LAC again Russia is come running to India's defense.
With this US delegation, the commerce secretary Gina Raimondo had also come, she said it 'would be disappointing if new Delhi works out a discounted energy deal with Moscow.
Foreign minister, Jaishankar hit out at a "campaign" against India and said it's natural to look for good deals.
(TIO April 1st)
He also said that India has a big population and we need cheap energy deals for our people
The British concerns toward India
British Foreign Secretary Liz Truss arrived in Delhi for a day. U. k Prime minister Boris Johnson is also about to visit India due to this Truss's arrival was very important in terms of Indo- Britain relations as well as the Ukraine crisis and sanctions against Russia.
In her official statement, she told
'we have been working with the Indian government to deepen our relationship in many areas………. we are in the middle of the trade negotiations, defense, and security……Russia's illegal invasion of Ukraine hasn't shattered European security it's also put a question mark on global security……. Putin can invade sovereign nations …. what message does that send to other aggressors around the world? ……..so this is why U.K and India should work more closely together. 'I know that the Indian Government is working on the 'Make in India' program to become more resilient in the long term. So, I think there are a lot of things that we can do together to improve our respective domestic resilience'.
There was one to one meeting and dialog happened between Liz truss and Jaishankar in front of delegations and media. In a sharp exchange of words with the British foreign secretary, Liz truss while discussing oil imports from Russia- the UK India strategic future forum in New Delhi.
Though the discussion was hot it frames the current foreign policies of both countries at the time of change in world geopolitics.
Let us see some important parts of the conversation –
Liz truss- "we respect other countries' decisions, India is a sovereign nation, I am not going to tell India what to do!"
S. Jaisankar – "We have seen sometimes, what looks 'almost like a campaign on this issue against India'……reports say in the month of march that Europe bought 15% more oil and gas from Russia than it did in the month before. If you look at the major Buyers of oil and gas from Russia, I think most of them are in Europe.
We get the bulk of energy supply from the middle east about 7or 8%from US in the past and may be less than from Russia. When oil prices go up it's natural for the countries to look for good deals for their people. I am pretty sure if we wait two or three months and look at the big buyers of Russian oil and gas I suspect the list would be different and I suspect we wouldn't be in the top 10 of that list."
Truss – "As we are purchasing cheap oil and gas from Russia for a long time and dependency on energy takes time to address. so now we are removing it will take the time I think we can't let our foot off the sanctions we now reducing and eliminating dependency.
…. What would I have seen the crisis in Russia had been demonstrated by the Russian people. I think it has shaped the Resilience of free societies and the ability to select your government."
Jaishankar – "But I would give you global reading, I would say some of it also depends on proximity. Some of it also how a country and society relate to what is happening …..the example of Afghanistan what we have seen Events in Afghanistan has a strong impact on India last summer. … I probably have to say- it didn't have the same impact on Europe. People didn't relate to the coming of the Taliban in the same way. They didn't identify with the people who were affected in the same way."
The Russian concerns toward India
Moving on days after visiting China, Russian foreign minister Sergey Lavrov arrived in Delhi on April 1st, it was one of the most high-profile visits of Moscow to India since Russia's invasion of Ukraine. He had held meetings with his Indian Counterpart S. Jaishnker, both of the foreign ministers had in a state of pressure about three current burning issues -
First, is India's tie for new oil deals. Second, what should be the medium of exchange- Rupees or Ruble, and Third, western pressure and sanctions.
Let's see what Sergey Lavrov stated about the Delhi Moscow relations and his concerns about the current pressure on India.
Sergey Lavrov – "As regards to our financial dealing with rubble and rupees many years ago we started moving with India, China and many other countries from the dollar, Euro and more and more use of national currency.
…………Regarding oil supply and high technologies if India wants to buy we are ready to discuss with mutual circumstances. ………… we know India is under pressure and we respect the Indian concentration on its basic principle of foreign policy that is based on the legitimate national interest of this country."
Sergey Lavrov also met with Prime minister Narendra Modi as a messenger of Putin giving regard on his behalf for supporting Russia in this ongoing war despite much pressure and sanctions.
The way these high-profile visits started one by one, probably it looks like all these countries wanted to strengthen their relationship with Delhi. But if we think like that, it might be our biggest mistake. Because there is another side of the hidden story too.
As per the American delegation's concerns, they don't care about the Indian foreign policy of non-alignment, they pretend they are friends of Delhi but they don't, because US policy with India has been based on creating more pressure on Delhi and humiliating it - in front of international forums, even Washington, D.C is raising questions to India on the human rights violations in Kashmir.
As per Britain's concerns – although the United Kingdom is one of the biggest supporters of the US, for a couple of years it is trying to maintain a good bilateral relationship with India that's why Boris Johnson visited India to make the relationship perfect.
As per Russia's concerns, Indo-Russia relations have reached a new era, where we can see true friendship and partnership in terms of trade and technologies.