Reality behind Indo – Nepal recent border dispute : on Kalapani-Lipulakh pass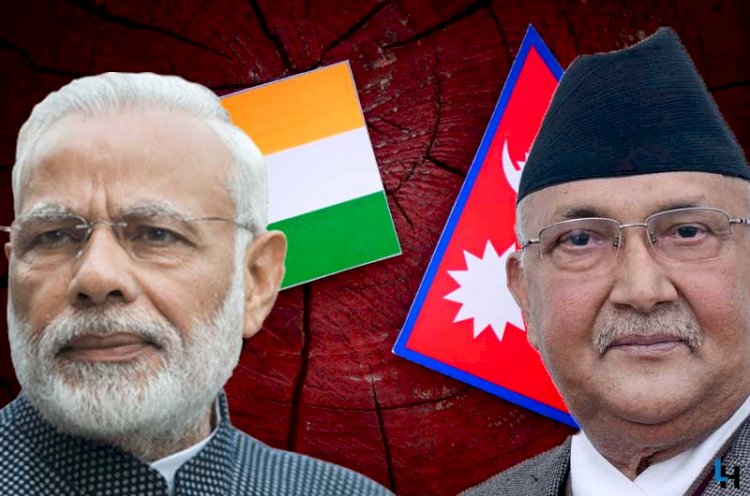 After new territorial dispute over Kalapani - Lipulake pass, relation between India and Nepal have taken a new turn. A new censorious controversy started when the two countries published their revised map one by one. Nepal was unanimously approved and passed its new map in their lower house, government of Nepal claimed 400 square kilometer of Indian territory expanding west from Lipulake pass and including it as a part of Nepal's sovereign territory.
Controversy Area :
Nepal claims that the river of the west of Kalapani as the main Kali river, hence it belongs to Nepal. The river borders the Nepal's district of Dharchula in Sunder Paschim Pradesh province that Nepal shows in its new map.
From Indian side, actually Kalapani is region located in the eastern most corner of Uttarakhand's Pithoragarh district. It shares a border on North with the Tibet autonomous region of China and Nepal in the east and southern region.
"Treaty of Sugauli" which was signed between the British East India Company and the Kingdom of Nepal on 4th March 1816 is the cause of demarcation of the modern Indo-Nepal border. The treaty which was declared Mahakali river of Nepal as the border between the two countries, was expected to resolves their border issues in future. The main point of dispute is the origin area of Kalapani river and its various tributaries that sliced through the mountains.
The significant truth is that after the "Treaty of Sugauli", Kali river changed its route so many times. Nepal's claim of territory of the Kali river is based on Limpiyadhura origin, while India says the river actually originate from name Kali near kalapani.
To resolve this controversy between these two countries over a small 35sq km area claimed by both, India recently released a new map. In this new revised map India considers Kalapani as a part of Uttarakhand's Pithoragarh district.
Reality behind the controversy
India-Nepal relation is always as a close neighbors, their co-operations characterized by open borders and deep rooted people to people contact of kinship and culture. In spite of long and continuous close relations, the question is why these two countries are having critical controversy over tiny 35sq km of land?
Now the situation is, Nepal is aggressive and India is perplexed with Kathmandu's attitude. What are the reason behind it ?
The issue kalapani –Lipulakh pass, deeply related to –a road made by Indian government to reach –Kailash Mansarovar in Tibet. The project was reportedly a top priority for the Prime Minister Modi due to its strategic and spiritual values. On may 8, India inaugurated the Darchula Lipulekh pass Link road cutting across the disputed Kalapani area which is used by Indian pilgrims. Before this road, it was arduous to visit kailash Mansarovar for Hindu devotees as they had to cross long Chinese border.
China is envious for growing India's connectivity in this region. Now Chinese dream to pressurize India on the behalf of 'Kailash Mansarover yatra' is demolished. That's why China is provoking Nepal to create border issues with India which Nepal is following very well. Nepal deployed its armed police at Chharung, close to Kalapani with the aim of rising eyebrows toward New Delhi.
World Polarization is the another reason of provoking Nepal against India. After corona pandemic the world politics has been changed drastically. Right now almost every country is suffering with Covid-19 pandemic and struggling to come over from it. The entire world strongly believe that corona virus has spread by China intentionally. The furore against China has created new fronts.
Now world seemed to be polarized between U.S and China. Where India is strong supporter from U.S side while Nepal supports China. China is now offend with U.S allies, especially with India. Actually due to covid-19 spread issue, all strong countries of the world are supporting US now. Even China is having good bilateral relations with so many countries but due to pandemic allegations now no one wants to come closer to him. That's why to fending off himself from these allegations, China is also creating fronts with some countries, who can support Him as a responsible country among the world and Nepal is one of them.
To defeat US, China wants to destabilize India, that's why provoking Nepal against India. On the behalf of Kalapani issue, Nepal is demanding border disputes talk with India .Currently minister for foreign affairs of Nepal Pradeep Gyawali said that "If India can talk to china on border disputes ,why not to us''. As it is noteworthy that there is no defined borders in so many areas between two countries.
Another reason of this controversy is - politically government of Nepal is in the grip of China.
After abolition of monarchy in Nepal in 2008, china increases its influence over new emerged political parties with all its efforts. Unofficially China facilitated to grow communist ideology in Nepal. When Nepal drafted its new constitution, China shows its special concern about upcoming federal structure.
After promulgation of constitution, K.P.Oli Sharma formed coalition Government with its two allies CPN and CPN –UML. In spite of associated with new government, these two parties are having their own rivalries to sever themselves from each other to demonstrate their own influence among the nation, from beginning to till now.
Recently in april 2020 intra-party rift again escalated, as rivals faction within the party started "signature campaigns" to demonstrate majority support in their favor. After this escalation Chinese ambassador Hou Yanqi held a serious meeting with the top nepali leaders. The Kathmandu post ( Wednesday, July 1,2020) stated that " In series of meetings, Chinese envoy calls for unity among ruling party members".
These all activities shows that how much china involved in Nepal's internal politics and government. To save his own chair P.M Oli Sharma totally dependent on Beijing's intervention. Now foreign affairs of Nepal is utterly driven by China.
The Kalapani-lipulekh pass dispute is one of those issues where China is interested to make controversy between india and Nepal to fulfill its own interest in this region (India-Nepal-China border area).
Beside this, China also implemented its ambitious economic diplomacy over this landlocked country. For this, China is providing 33% of country's fuel requirements for Nepal.and also allowing to use four of its sea ports and three land ports. And many other tempting projects are going on.
But some of the media parsons and political analyst from Nepal are having different opinion. According to Khathmandu Times –Nepal-India relation should not deteriorate over the border issues.as the landlocked country dependent on its southern neighbour for all its essential items and it would be unwise to consider china as an "alternative". India locked Nepal from three sides, if India would retaliate it will have huge impact on Nepal.
According to the Indian observers –India have determined to resolve all border disputes with their neighbors including Nepal. But the recent Kathmandu's attitude and this move (changing their Map) on Kalapani issue will create inflexible situation to resolve this issue in near future. Specially when China is eager to create tension on border, provoking Nepal and Pakistan against India.