How the 'tariff war' converted into an 'unarmed combat'- the emergence story of 'new cold war'.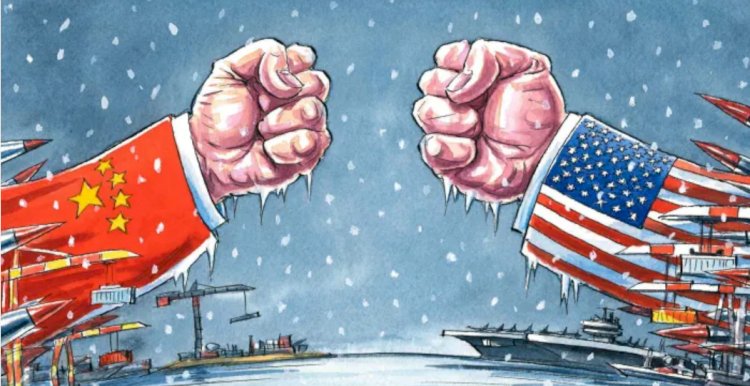 A long running trade war has converted into a big struggle between U.S and China. A decade ago created this conflict, has caused economic and international trade issues in front of the new world. The settlement of tariff is the main reason behind this fight among these two nations.
They went for several dialogues for resolving these issues and of course it happened, after 18 months of economic combat, U.S and China set to take a step towards peace. A few month ago in mid-December 2019 Donald Trump signed off phase one trade deal with China. And it seemed to be happened, that the trade war is going to be resolve in few sittings.
After this preliminary deal, in a pair of tweets Donald trump said that "the Chinese had agreed to many structural changes and massive purchases of American farm, energy and manufactured goods and much more, the 25% Tariffs will remain as is, with 7 ½% put on much of the remainder… '. U.S administration also claimed that they dropped their plan to impose additional tariffs of $160 billion in Chinese imports. But Chinese vice minister Wang Shouwen, said that 'they didn't specified purchase figures.
According to world politics and trade connoisseurs, phase one deal forced china to make a major economic reforms in terms of reducing unfair subsidies for its own companies, as tariff war already slowed Chinese growth that's why despite of signing off this deal with mutual acceptance china is now desperate. That shows, Chinese didn't get everything what they wanted from this deal. On the other hand many of American economists criticized Trump for this step - that, reducing tariff will harm U.S economy and upcoming growth and also it is difficult to consider China as a true cooperator, as Beijing uses predatory tactics several times to extirpate America's technological supremacy. Some of other connoisseurs says that it is unrealistic to think that U.S could defeat China by exerting extreme pressure on China. Both of countries claimed that they are eager to resolve issues for their mutual benefits and soon they will negotiate for that, but they are still dangling with all their affairs.
Now after Covid 19 outbreak the relation between two countries has taken worst turn. Initially this virus spared in China's Wuhan lab. Due to China's irresponsible and mysterious behavior, it spared to all over the world. Now almost every country is suffering with it and struggling to come over from pandemic.
In America, from March 2020 onwards covid-19 spread like a fire. From March to mid-July - around 130k people died due to this pandemic. United States of America had never seen this type of pandemic in its history ever, where more than 100 K people has died within two months.
The flurry of white house is not only about outbreak of virus attack, but also they are anxious about the future forecasts for their economic growth- which was already impacted by tariff war as well as worldwide slow down. According to the wall street journal U.S economy shrank at 4.8% in first quarter of 2020 and a much larger contraction in the second quarter– due to the corona virus pandemic and shut down. The chief economist at Credit Suisse said that 'we are headed for the largest contraction in GDP since the great depression'.
New York strongly believe that, to destabilize America's economy China spread this virus intentionally. In his various tweets Donald trump stated this virus as a 'Wuhan virus' or 'A Chinese virus'. He tweeted that "Whether they made mistake or whether it started off as a mistake and then they made another, did somebody do something on purpose, and now U.S is finding it come out".
On the other hand, China is defended himself from these accusations and pushed back himself from fierce rhetoric and criticism. Zhao lijian an official spokesperson of PRC, publicly promoted an unfounded conspiracy theory that the virus might have been brought to china by U.S military at time of world military drill in Wuhan, according to Global Times reports (China's official media).
The blame game which was started after covid outbreak, shifted as an unarmed combat, within few months this fight has taken a new peak and world has divided into two poles, which means that, these two countries are now behaving like 'extreme opposite' of them. And this kind of unarmed combat known as a cold war. The first cold war held after 2nd world war, where U.S and U.S.S.R fought against each other between 1945 to 1990, till the collapse of USSR. This time the players are America and China and entire world is going to move around either of them for few years or decades!
America is aggressively forming strategic and economic fronts against China. The restructuring of Quad is one of the forward step taken by U.S to retaliate the chain's ambition to emerge as a new world power. Japan and India were already concerned about chain's growing influence in Asian region from long time. If these four powerful countries (U.S, Australia, Japan, India) will retort strongly with the Chinese growing economic and military influence it would disquiet china. The Malabar defense exercise and Okinawa naval exercise would be the recent furry for China.
Other than this the Lawmakers of eight powerful nations U.S, U.K, Germany, Japan, Australia, Canada, Sweden, Norway, formed an alliance to counter China, calling it's a big threat to the global trade, security and human rights.
To defeat china on every front US is supporting Taiwan openly, trying to make him independent member of UN. America has deployed its army and warship yard on South China Sea for supporting Japan and Taiwan against Chinese infiltration. Also America is critically rhetoric against Beijing's Hong Kong policies. Other than this U.S openly supported India on its recent border tension against China.
The Chinese media has given shrilled reaction on American recent attitude. The Global Times has stated that steps taken by US is barley an 'insanitisious act of Western mindset', which wants to promote racial supremacy on China's growing power.
To fending off himself from these allegations China is also creating fronts against US. Now North Korea, Pakistan, Nepal, and Iran clearly looking affixed with China. The friendship with Iran would be dangerous for future because Iran is one of the oldest enemy of America and can do anything to defeat U.S at any cost. And because of that, this new cold war would be transformed into a real war at any time.
Now the whole world is compelled to join either of any one pole (either America or China), which is the basic feature of the cold war. The issues among two nations has escalated badly. Almost every nation is now badly impacted due to the recent changes in International politics in terms of emergence of new cold war.